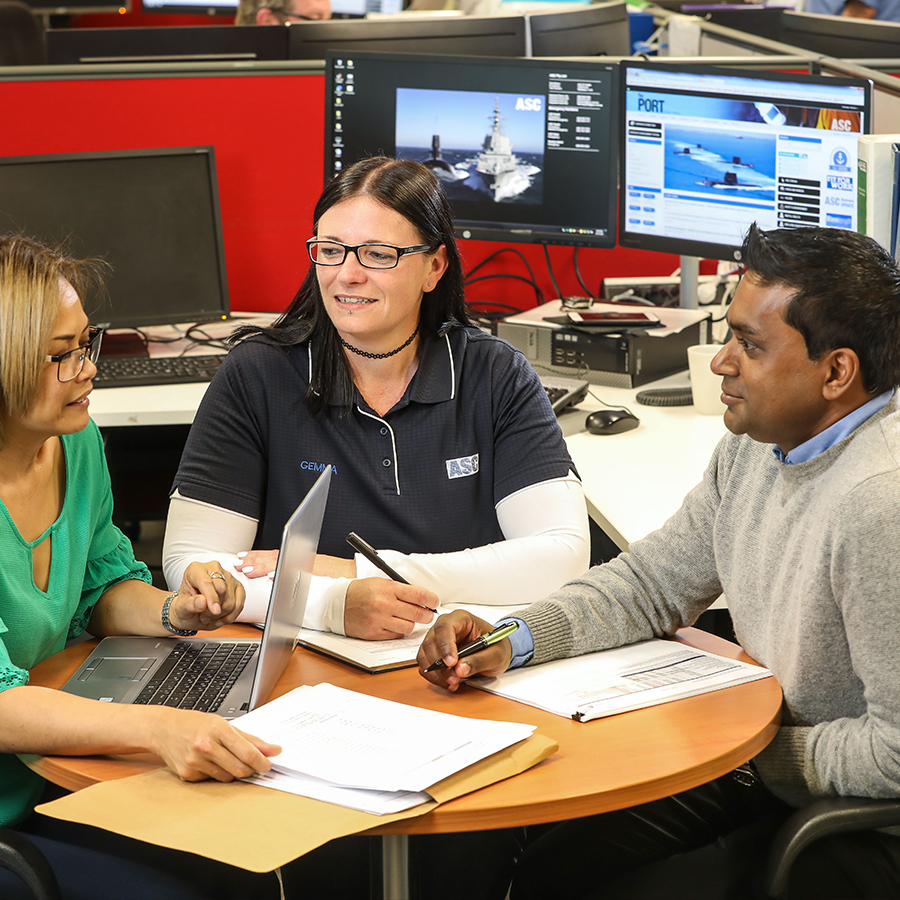 ASC believes that a diverse and inclusive workforce leads to a productive, innovative, high-performing and engaged workforce.
Every day, more than 1,900 people come to work at ASC and every team member has the right to feel valued and respected. This focus on diversity and inclusion has led to the development of initiatives and programs that nurture a culture of respect and belonging.
Providing an inclusive, safe and secure environment allows ASC to build and maintain Australia's front-line naval capabilities.
ASC has several initiatives that focus on engagement and advocacy for people of all cultures and demographics. They are supported by a Diversity and Inclusion Council comprised of employees.
These include the 'Together as One' program, which has been designed to create an environment where all employees feel they belong and celebrate their differences, together with networking events.
ASC's focus on diversity and inclusion is reflected in its corporate value of Respect.
ASC's diversity and inclusion initiative Together as One was designed to create an environment where employees celebrate their differences and believe that it is these differences that make them stronger.
Together as One aims to develop a diverse and powerful workforce where each employee is accepted for their uniqueness, creating a culture of trust without prejudice or assumption.
EMPLOYER OF CHOICE FOR ALL WOMEN
ASC is recognised as an Endorsed Employer of Choice for all Women by WORK180, further demonstrating ASC's commitment to achieving equality for all team members, regardless of age, gender, ethnicity or identity.
Operating in Australia, the UK and USA, WORK180 assesses companies against the following 10 key standards driving equity in the workplace:
inclusive hiring processes

representative leadership

flexible working arrangements

pay equity

shared caring responsibility

employee voice and resource groups

career development

inclusive and anti-discriminatory culture

employee safety and support services

strategic commitments.
Respecting Indigenous culture
ASC acknowledges the Traditional Owners of the lands and waters on or near ASC's operations in South Australia and Western Australia: the Kaurna people of the Adelaide Plains and the Whadjuk Noongar people of Perth's Swan Coastal Plain. ASC pays its respects to elders past, present and emerging, and extends this respect to all Aboriginal and Torres Strait Islander peoples.
ASC is committed to developing respectful relationships and creating meaningful opportunities with Aboriginal and Torres Strait Islander peoples, and will continue to support local Aboriginal and Torres Strait Islander businesses through the procurement of goods and services.
In 2021, ASC implemented its inaugural 'Reflect' Reconciliation Action Plan (RAP). This plan incorporated a strong focus on building awareness throughout the business and providing opportunities for team members to engage with the RAP to learn more about reconciliation, while relationships were built with Aboriginal and Torres Strait Islander stakeholders.
In June 2023, ASC launched its 'Innovate' RAP, continuing its reconciliation journey by cementing an organisational culture of diversity and inclusion, and building on the strengths of its diverse workforce to encourage cultural awareness and different ways of thinking.
ENHANCING lGBTQIA+ INCLUSIVITY
Everyone has the right to be their whole, authentic selves at work, without fear of discrimination or prejudice. Understanding and respecting each other's differences is essential to creating a culture and environment in which everyone feels welcome, safe and valued.
Recognising this, ASC has partnered with national not-for-profit organisation Pride in Diversity to enhance all aspects of workplace inclusion for LGBTQIA+ team members (lesbian, gay, bisexual, transgender, queer, intersex, a-sexual and other diverse genders or sexual orientations).
Through this partnership, ASC is implementing a range of initiatives, training and resources to support its LGBTQIA+ community, increase awareness of LGBTQIA+ issues more broadly, and create a safe and inclusive workplace for all.